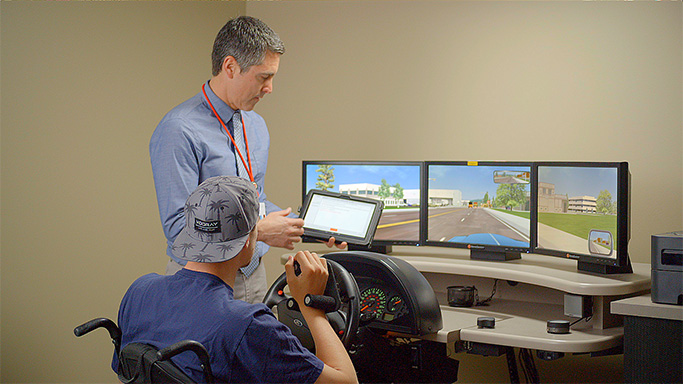 Using DriveSafety's clinical simulators and the SimClinic™ library of client activities, therapists can exercise and objectively measure a wide range of sensory, cognitive and motor functions that underlie driving. As such, these tools can be helpful in assessing and potentially treating the effects of medical conditions that may put a driver at risk behind the wheel, such as brain and spinal injuries, orthopedic injuries, stroke, diabetes and many others.
In some cases, the simulator can aid in the recovery of functional abilities. In cases where losses are more permanent, adaptive equipment and strategies can be adopted and effectively trained using the simulator. Even when functional recovery or adaptation is not feasible, the simulator can help clients gain important insight into their condition relative to driving cessation. Simulation-based tools can also be effective in developing skills for special-needs clients, who may or may not become candidates for driving.
DriveSafety works closely with clinicians and researchers to develop scenarios and exercises that will effectively test a patient's sensory, cognitive, and motor functions, and overall ability to operate a vehicle. The realistic scenarios created by DriveSafety provide a safe, controlled environment for presenting hundreds of common and uncommon situations encountered while driving. Research customers can also build their own custom driving scenarios, including powerful data collection functions using DriveSafety's HyperDrive scene and scenario authoring tools.